Knitwear manufacturers introduce you to the classification of knitwear fabrics
---
Knitwear manufacturers tell you that the fabrics of knitwear can be divided into the following categories.
glossy fabric
Glossy fabrics have a smooth surface and can reflect light, giving them a shiny feel. Such fabrics include fabrics with a satin weave structure. It is most commonly used in evening dresses or stage costumes to produce a gorgeous and dazzling strong visual effect. Glossy fabrics have a wide range of styling freedom in the performance of dresses, and can have simple designs or more exaggerated styling.
heavy duty fabric
Heavy-duty fabrics are thick and scratchy for consistent styling, including all types of heavy duty woolen and quilted fabrics. The fabric has a sense of physical expansion, and it is not suitable to use too many pleats and accumulations. The A-type and H-type shapes are most appropriate in the design.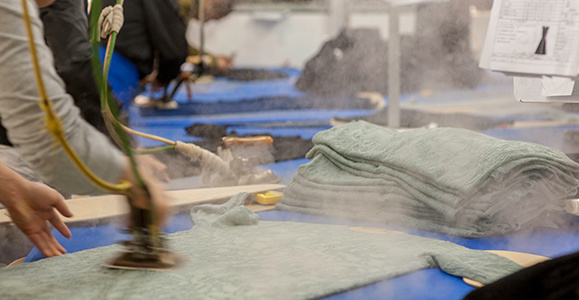 Transparent fabric
Transparent fabrics are light and transparent, with an elegant and mysterious artistic effect. Including cotton, silk, chemical fiber fabrics, etc., such as georgette, satin silk, chemical fiber lace, etc. In order to express the transparency of the fabric, natural and plump lines are commonly used, and the H-shaped and round table-shaped designs are rich in changes.
functional fabric
Knitwear manufacturers will introduce to you: Functional fabrics are fabrics with special functions, such as flame retardant, anti-static, anti-acid and alkali, etc.