What is built in half cardigan Sweaters
---
1. Wear short-sleeved T-shirts or shirts. At the end of summer and early autumn, when the short sleeves have not gone down, you can freely wear half cardigan Sweaters outside the short sleeves. It is warm and fashionable. It is easy to put on and take off when the temperature is too high at noon.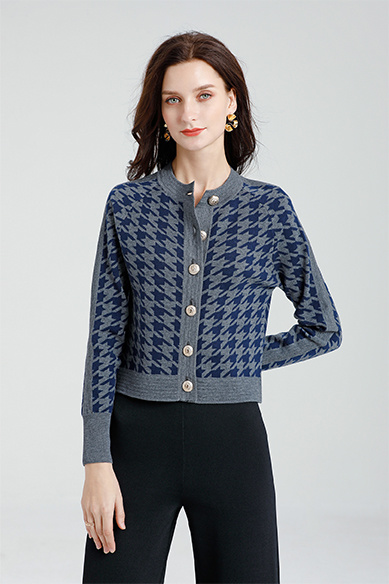 2. Wear a high-necked bottoming shirt. In the early winter, it is not particularly cold. In the early winter, you can use half cardigan Sweaters with thicker high-necked bottoming shirts to keep warm and not bloated. The softness of the sweater is more gentle.
3. Wear a hooded sweater. The sweater is now a popular item in the fashion circle. It is not only versatile but also simple and fashionable.
4. Take a low-collar bottoming shirt, half cardigan Sweaters take a low-collar bottoming shirt, which is suitable for exposing the collarbone, elegant and graceful.
5. Put on a stand-up collar shirt, which has the most popular palace style elements at present, simple and quiet.
6. Put on a shirt dress with a lapel collar. In the end of summer and early autumn, those who are still reluctant to wear a skirt put half cardigan Sweaters on the outside of the shirt skirt, which is gentle and cute.
7. Wear a turtleneck sweater, the most classic turtleneck sweater, the swan-necked beauties put on it and turn it over.
8. Put up a lapel shirt, put the lapel shirt inside the half cardigan Sweaters, the appropriate size of the collar is turned over the sweater, it is not a taste in my heart, casual without losing elegance.