Trends in full needle Knitwears
---
Full needle Knitwears is an indispensable basic item for autumn and winter. Girls with a keen sense of fashion should find out that the styles of popular knitwear items vary each year. In the past few years, pockets, split ends, and even zipper designs have been added one after another. , did you notice?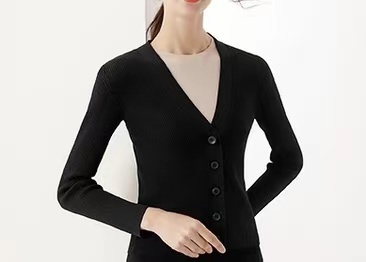 Trendy people who know how to dress have always liked to use belts to tie a good proportion of their clothes. This year, full needle Knitwears is popular with a belt, which has become popular on Ig. In the past, wearing a knitted sweater would eat up the waist to some extent. Although it is possible for a meat girl to secretly hide the traces of eating too well recently, a girl who is naturally thin will not show her body advantage when wearing it. This year's popular bandage style has the characteristics of loose and comfortable sweaters, plus the waist that can be stretched at any time, meat girls and paper girls can wear them, and the visual weight can be silently reduced by 3kg!
Start with the short version of the full needle Knitwears sweater, to maintain the original looseness of the sweater, and the belt is tied at the waist side, so as to simply wear the ant waist of Han Xing; for girls who want to be sweeter, you might as well tie a bow in the waist and match it with Knee-length pleated skirts wear Wenqing style, and wide trousers also have a good balance effect.
The mid-length version of the sweater comes with the temperament of a small daughter. Choose the most rammed earth color of the season, paired with black pants or denim, it looks elegant and fashionable to wear in class and work. For girls who prefer a set to the end and go straight out, a well-fitting knitted wrap dress is your best choice this season, a fashionable item with a heroine's aura as soon as you wear it, the style is perfect and you can quickly sculpt!
For girls who pay attention to the value of CP, the long version of the full needle Knitwears with both dresses and coats is definitely a must. Wear it alone with a silk satin pajamas, a V-neck on the chest and a slit on the lower body to reveal the lace edge is the most sexy; as a daily routine The jacket keeps the wind and keeps you warm, and it can also create a sense of hierarchy.