How to choose half cardigan Sweaters
---
Half cardigan Sweaters are the most practical and versatile styles in spring and autumn, very practical. It's the early autumn season. It's time to wear half cardigan Sweaters. Everyone knows the basic collocation of half cardigan Sweaters. Today, I recommend a few popular ways to wear this year. You can learn from them if you like them. They are very practical and fashionable.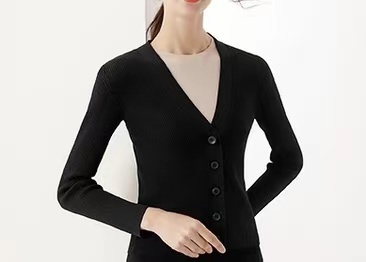 1. V-neck short half cardigan Sweaters, underwear or inner vest, looks very sexy. This combination requires courage. Wear a vest inside and try not to show it.
Celebrities wear this way, and it is also the most popular way to wear this year. While courage is needed, they must also have confidence in their figure. Girls with full breasts are advised not to wear this way.
2. The mid-size half cardigan Sweaters are very practical and can be worn even in late autumn. Wear a high-necked inner shirt, a short skirt underneath, and a beret of the same color, which is a bit of literary style and full of fashion.
3. The long half cardigan Sweaters can be worn as a jacket. You can wear the jacket according to the way the jacket is worn, with a V-neck and a shirt underneath, and pants of the same color underneath. It is fashionable and sexy, and has a very prominent height.
The long half cardigan Sweaters can modify the figure very well, and give people a straight line feeling when worn, which has a slimming effect. And can increase the proportion of the body.
The mid-section half cardigan Sweaters wear short casual skirts and Martin boots underneath, which is full of fashion. Short skirts can bring out the shape of your legs and turn yourself into a beauty with long legs.
The mid-section half cardigan Sweaters are matched with skirts of the same length. The most prominent is the leg shape. Coupled with the heightening effect of Martin boots, the body proportions are much more perfect. At the same time as casual fashion, there is also a handsome in it.
Half cardigan Sweaters are very practical items. In the spring and autumn season, no one will prepare a few. There will be a variety of colors and patterns. According to the different colors and patterns, pay attention to the coordination of the interior.
At the same time, if the cardigan sweater is not well matched, it is easy to get fat, so it will not play the role of modifying the figure. So choosing the half cardigan Sweaters that suits you is the first step to success in your outfit.