The cleaning and maintenance of full needle Sweaters
---
1. Before washing the full needle Sweaters, it is recommended to pat the dust off and soak in cold water for 10-20 minutes. After taking it out, squeeze out the water, put it in a washing powder solution or soap flake solution and gently scrub, and then rinse with water. In order to ensure the color of the wool, 2% acetic acid (or edible vinegar) can be dropped into the water to neutralize the residual soap.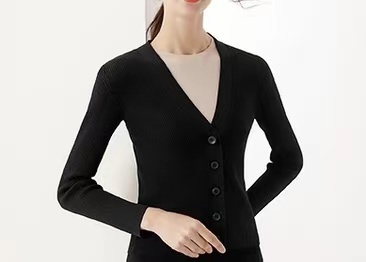 2. Wash the full needle Sweaters with tea water (reminder: white clothes are best not to use this method), which can not only clean the dust, but also make the wool yarn not fade and prolong the service life.

3. White full needle Sweaters will gradually turn black after wearing for a long time. If the sweater is cleaned and placed in the refrigerator for 1 hour, and then taken out to dry, it will be as white as new. If the dark knitwear is stained with dust, it is recommended to use a sponge soaked in water and squeeze it dry and wipe it gently.

Full needle Sweaters are craft products that use knitting needles to form loops of various raw materials and yarns, and then connect them to form knitted fabrics. The knitted sweater is soft in texture, has good wrinkle resistance and breathability, and has greater extensibility and elasticity, and is comfortable to wear.

1. The full needle Sweaters are easy to deform, so you can't pull it vigorously to prevent the clothes from getting out of shape and affecting your wearing taste.

2. After washing, full needle Sweaters should be dried in the shade, hung in a ventilated and dry place, and dried in a flat manner, and placed in accordance with the original shape of the clothes to avoid deformation.

3. Full needle Sweaters should avoid exposure to the sun, which will damage its luster and elasticity and make it yellow and black.