How to wear half cardigan sweaters without looking outdated
---
Half cardigan Sweaters have become a great fashion item because of their versatility and fashion, can adapt to various occasions. Whether you want to wear an elegant and formal shirt, or a cool casual style, or even a daily match for the office, a cardigan can be your perfect choice. You just need to know how to match them in the right way.
Whether you are buying the first half cardigan Sweaters or there are many half cardigan Sweaters, I hope you will focus on three points:
1. Fitting, that is, the version must be suitable for you.
2. Sense of quality, this has nothing to do with the price of half cardigan Sweaters, we have to wear our own taste, the texture of the sweater must be crisp and textured.
3. Dry, a cardigan should look refreshing and clean!  
Although the term cardigan can cover many styles, it actually refers to a knitted pullover that opens from the front of the sweater. Cardigan sweaters are suitable for spring, autumn or winter. Half cardigan Sweaters were designed to provide warmth in the early stage. With the enhancement of fashion sense, it appears very delicate. It has many styles, cardigan is a must-have item for your wardrobe, is an ideal choice for almost all occasions. Although there are still many consumers who don't know it very well, it is good at adding brilliance and fashion to you.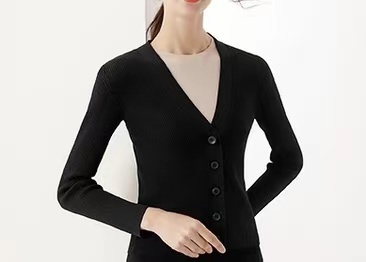 Finding the half cardigan Sweaters that suit you, largely depends on your own ideas. If you want to match a relaxed or casual style, try a loose-fitting style. If you want to wear clothes that look smarter, consider wearing half cardigan Sweaters that fit your body. No matter which style you want to use, you should only choose cardigans that fit your size, otherwise the proportions may appear awkward.
As mentioned above, half cardigan Sweaters can refer to many unique styles. From loose long cardigans and thick-needle cardigans, to lightweight button-style cardigans, to exquisite shawl collar styles, seemingly simple cardigans have everything. Although all of these styles may belong to the same category, each style is unique, and they will contribute a different aesthetic to your overall outfit. Therefore, which half cardigan Sweaters you choose to wear is an important decision, which will undoubtedly affect your overall visual appearance.